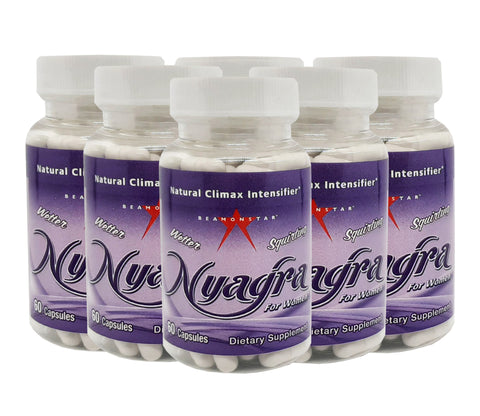 Nyagra Female Climax Intensifier 60 Cap Bottle - But 4 Get 2 Free
Nyagra Female Climax Intensifier 60 Cap Bottle But 4 Get 2 Free
Nyagra will heighten a woman's sexual experience to the point of explosion. The supplement also assists in making it easier for the average woman to have a female ejaculation which is something that the majority of women never experience. Nyagra improves blood flow to the clitoris and G-Spot to increase sensitivity and arouse more powerful orgasms. It acts as an all-natural libido-boosting enhancer made for women. A single pill taken 45 minutes to one hour before sexual activity gives women enhanced desire, energy and pleasure that will continue for several hours. The pills are gentle on the stomach and are extremely easy to swallow. Benefits can start up to one hour before sexual activity however consistent daily use is important for long-term sexual enhancement benefits. Nyagra is the ultimate solution for women who want to reignite their love life with a powerful, all natural aphrodisiac.
Helps with self lubricating
Assists in reaching climax sooner
Achieve stronger more full body orgasms
May help induce squirting when taken daily
May be taken with any other female enhancement pill
Safe with alcohol
Does not increase heart rate
Safe for women of all ages
Can be used alone, with a friend or a sex toy for more fun and memorable orgasms
---
Like this? Get these...
---